Reception Desks: Your First Point of Contact
Reception desks are the first office furniture item people see when they enter your place of business. This is where the conversation about your business begins. It's the first chapter of the story about what you do and how you interact with the professionals in you business sector. Choosing the right reception area desk for your front lobby will help you to make a great impression from the beginning. The reception station is a central piece that many designers use to anchor their design style, choosing all other reception room furniture to match.
You can choose from our wide array of reception desks in a variety of materials including wood, laminate, glass as well as modular options incorporating fabric. Using this palette of materials in the right way will help you create a style for your custom reception area. You can incorporate different elements to convey warmth, elegance, functionality or modernity.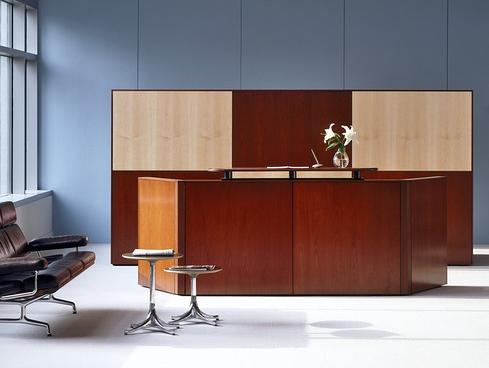 Many of our reception stations have optional floor-to-ceiling backdrops which can be composed of attractive panels or functional cabinetry. This is a great way to tie the functional element of reception desks with the rest of the room.
If your receptionist handles a lot of files or uses a monitor which may display private information, it is often useful to select waiting area desks that have transaction counters. These reception desk features are an ergonomic place to put sign-in clipboards.
It is important to note that some reception area furniture comes in right or left-handed models and so it is best to take note of the shape of your reception area and the likely pathways people will take through it in order to accommodate the function of the room.
For highly custom reception desks, our modular pieces are a great option. Modular reception stations are well-suited for a unique environment because you can call on our expert design team to create the best configuration to fit a particular space.
This article are reprinted, if there is any infringement, please contact deleted.
https://lygdlt.en.alibaba.com/
MAIN PRODUCTS: STEEL OFFICE FURNITURE
EXPORT COMPANY:
Luoyang Great Trading Co.Ltd
FACTORY:
Luoyang Luxibao Metal Products Co.,Ltd.
Email : sales@greatfurniture.cn
Web: www.greatfurniture.cn